Virtual Manufacturing Services (VMS)
The rapid upgrade of the global manufacturing space has led to several trends, including heightened operational efficiency and technologies that allow companies to be part of 'Industry4.0' – without interrupting processing or core functions.
Company leaders, plant managers, and other key stakeholders are looking for new ways to optimize manufacturing processes. Robotics to eliminate manual intervention, automation for minimal-error production, and smarter assembly pathways are among the popular routes. Advanced simulation techniques could help recreate and test these scenarios, fail-proofing rollout and helping integrate 'cyber-physical' systems across the enterprise.                         
At LTTS, we ensure manufacturers can conduct a rigorous analysis before adoption, ensuring high success rates. Our solutions suite is based on next-gen digital product models, harnessing end-to-end product and device information to transform each step – right from process design to validation. Our Virtual Manufacturing Services include the following:
Plant simulation, covering throughput, bottlenecks, and material flow
Assembly simulation, spanning design, tool space allocation, and path verification
Human simulation, understanding timelines, stress, fatigue, and visibility standards
Robot simulation, through validation & offline programming (OLP) for various applications
Virtual commissioning, using event-based simulation with all I/Os and virtual PLC integration
Machining simulation, via CNC Programming, tool and path generation, as well as post-processing study
We adopt a Poka-yoke approach to error-proof the floor, delivering ergonomically compliant and highly efficient, with rapid changeover support. We offer customers the most comprehensive virtual simulation portfolio available, enabling market differentiation and real-world outcomes.
Brochure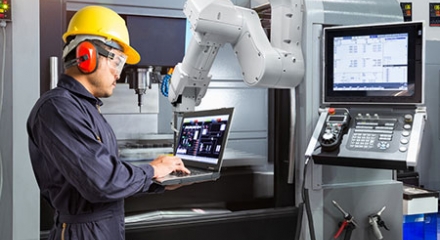 Our PLM solutions translate disruptive ideas, into exceptional solutions. Read how we incorporate IoT, 3D printing, M2M communication and social analytics, significantly reducing development costs & launch timelines.
Blogs
3 ways in which 'Digital' could be the new normal for supply chain management, and why this revolution pivots on Big Data technologies – we explore the building blocks of Industry 4.0.