CONTACT US
ISG: MedTech Digital Transformation Services in US
The MedTech Digital Services industry has accelerated with the technology trends such as improved connectivity, mobile enablement, IoT, advanced analytics amongst others. The MedTech industry services is expected to continue bolster the industry growth due to factors such as healthcare reform, technological advancements, and sustainable communication between all parties to enable a democratic environment where healthcare delivery will streamline workflows, facilitate decision support to physicians, enhance the patient experience, reduce the number of hospital visits, optimize remote healthcare delivery.
LTTS has been rated as leaders owing to its strength such as end-to-end MedTech solutioning capabilities augmented by a pragmatic design approach, deep experience in providing solutions across all MedTech verticals, and specific focus on approaches to enable connected devices. The company is extensively involved starting from the conceptualizing phase of new technologies. The company has also been working closely with clients to scale up technologies to a productized form.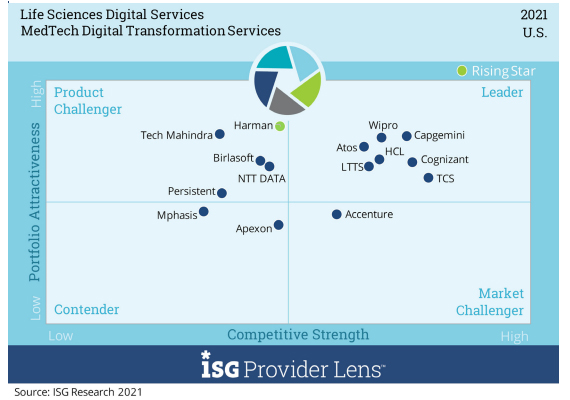 In a recent study by analyst firm ISG, LTTS has been recognized as a leader in the MedTech Digital Transformational Services in US. According to ISG, "LTTS brings deep experience across MedTech use cases for multiple verticals along with a specific focus on enabling connected devices. It provides end-to-end solutioning with a focus and expertise in quality and compliance. The company has leveraged the trend of converging technologies and blurring vertical lines, helping clients to benefit from paradigm shifts in the transportation segment."
L&T Technology Services has been recognized as a Leader among 15 providers by ISG in their MedTech Digital Transformation Services.
Download the report for more information.