CONTACT US
ISG: MedTech Digital Transformation Services in Europe
The MedTech Digital Services industry has accelerated with the technology trends such as improved connectivity, mobile enablement, IoT, advanced analytics amongst others. The MedTech industry services is expected to continue bolster the industry growth due to factors such as healthcare reform, technological advancements, and sustainable communication between all parties to enable a democratic environment where healthcare delivery will streamline workflows, facilitate decision support to physicians, enhance the patient experience, reduce the number of hospital visits, optimize remote healthcare delivery.
LTTS has been rated as leaders owing to its strength such as comprehensive expertise in medical product engineering, connected health as focus area in life sciences and comprehensive test support wherein the services cover functions such as hardware and software testing and performance testing. The company also operates many labs for this purpose and clients can benefit from as-a-service offerings for these labs.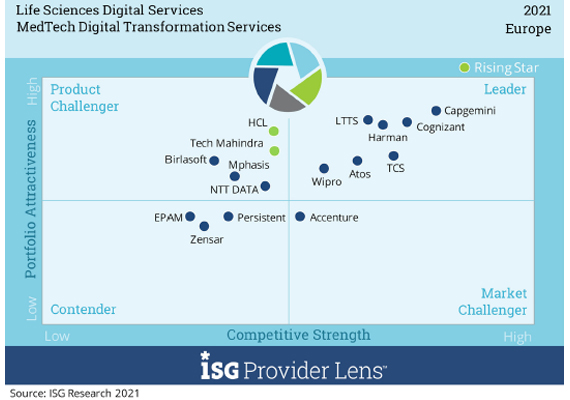 In a recent study by analyst firm ISG, LTTS has been recognized as a leader in the MedTech Digital Transformational Services in Europe. According to ISG, "LTTS is an outstanding partner for developing connected health solutions in the life sciences industry. The company can refer to impressive domain expertise in engineering services along the entire product development lifecycle. Another important offering is the comprehensive test support, which covers functions such as hardware and software testing, as well as performance testing."
L&T Technology Services has been recognized as a Leader among 16 providers by ISG in their MedTech Digital Transformation Services in Europe.
Download the report for more information.