CONTACT US
ISG: Manufacturing Industry Services Digital Engineering - Industrial
The paradigm shift in manufacturing and product development across the industries has resulted in a significant transformation in Engineering services. Engineering services providers are adapting to provide the digital needs of the clients across the value chain such as product innovation, ideation, strategy and design, R&D and testing services, operations, product life cycle management and aftermarket services.
LTTS has been rated as leaders owing to its strength such as product engineering proficiency tailored to maximize yield followed by Value proposition at the downstream of the value chain, along with pioneering implementation of electric powertrain concepts in the off-highway segment. LTTS is extensively involved starting from the conceptualizing phase of new technologies. The company has also been working closely with clients to scale up technologies to a productized form.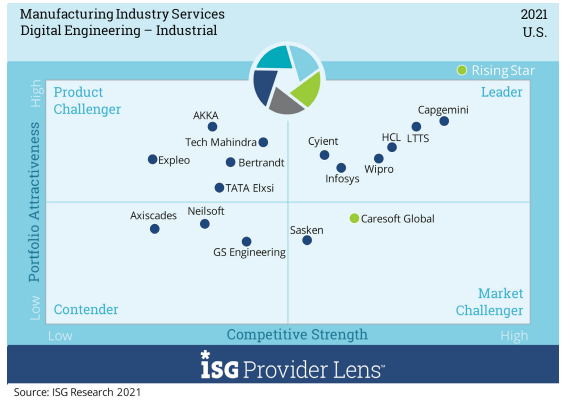 In a recent study by analyst firm ISG, LTTS has been recognized as a leader in the Manufacturing Industry Services Digital Engineering – Industrial in US. According to ISG, "LTTS has established itself as a specialist in engineering and R&D services in the U.S., effectually combining the intricacies of the product and manufacturing engineering across the layers of hardware, software and embedded systems. The company presents significant capabilities in digital engineering, supported by a team of experienced engineers and vertical specialists. It has heavily invested in infrastructure development to secure client interests against market volatilities.".
L&T Technology Services has been recognized as a Leader among 25 providers by ISG in their Manufacturing Industry Services report.
Download the report for more information.