Vehicle Electronics and Connected Services 2019
Vehicle Electronics & Connected Services is the largest automotive conference in Northern Europe, now in its' 14th year. This is a unique event where you get a glimpse into the future of automotive. At VECS 2019, you will meet the most innovative minds in connected vehicles, mobility & autonomous. You will get in-depth insights on new disruptive knowledge and unmissable networking.
LTTS invites you to an exhibition and a speaker session at VECS 2019, the biggest automotive conference in North Europe where OEMs, suppliers, service providers, and universities, share innovations, views and set the course for key decisions of the future.
                  Experience in Cutting-Edge Technologies

                       Speaking Session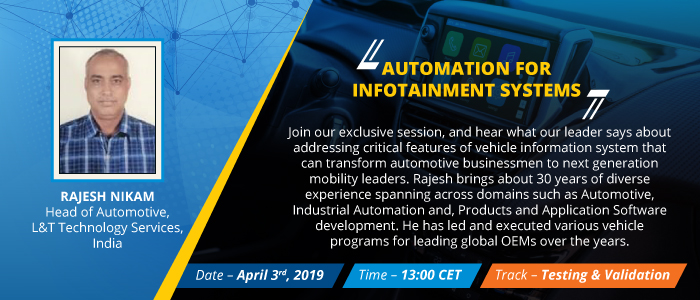 Experience next-gen ADAS
Our ADAS solution finds its application in automotive industries, to automate and enhance vehicle systems for safety and better driving
Android based infotainment system
Hybrid architecture with Android and Linux in infotainment system, enabling OEMs save 40% operational cost  and reduced time to market
LABVIEW test application for EV
We recently conducted motor testing by designing and developing LABVIEW test applications for a Tier-1 OEM, that minimized user intervention and developed user friendly test software modules