CONTACT US
Fire side chat on Intelligent Building Experience Management
Does your smart buildings program allow data to flow seamlessly between multiple systems at technology and securely?
Companies have been seeking to create values for customers and employees at every touchpoint with a 360-degree smart building solution that covers all aspects of a building's health, digitalization, and sustainability. A holistic smart building platform that provides customers with cutting-edge digital tools and applications ensures comprehensive monitoring, diagnostics, analytics, and critical building asset optimization.
By improving building efficiency and optimizing the energy distribution organizations can save 15 to 25 percent in energy. And that's just the energy and carbon. And this can also be extended useful life cycle of the assets or machinery within the buildings through again applications like predictive maintenanceto some of the other sustainability initiatives.
Don't miss this exciting opportunity. Register today to this fire-side chat and learn:
A deep dive into creating smarter building and sustainability

Changing priorities in relation to the implementation of smart building solutions

The advantages of a 'single pane of glass' solution

End-to-end security for smart buildings from ever-changing and evolving threats
Speakers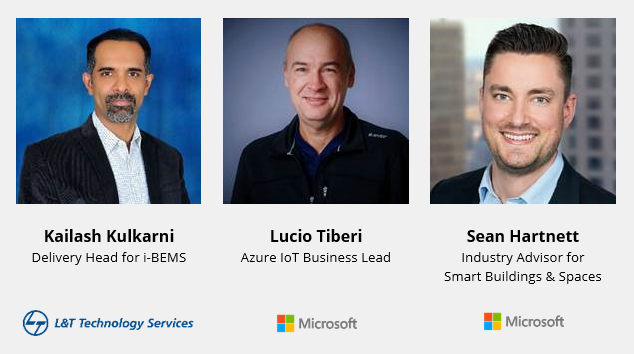 Engineering the World's Most Intelligent Campus
Learn how LTTS in collaboration with Microsoft Azure aimed to create something entirely new: an 11-story "campus in a building" designed from the ground up to bridge the gap between digital and physical space.