Employee Development
Every organization has a stated purpose of existence.  And, any employee joining the organization will have a perceived individual purpose of employment. It is the organization, which, through its people management interventions, synchronizes every employee towards the vision of the organization and also fulfils the individual purpose.
The Talent Development & Employee Engagement is a unique function in Human Resource Management in L&T Technology Services, which provides powerful framework to determine the organization's talent needs and plan people management interventions that will meet those needs. The function has a robust and sustainable model that drives employee engagement in a way that ensures employees are committed to the organisation's goals and values, motivated to contribute to organisational success, and are able to enhance their own sense of well-being.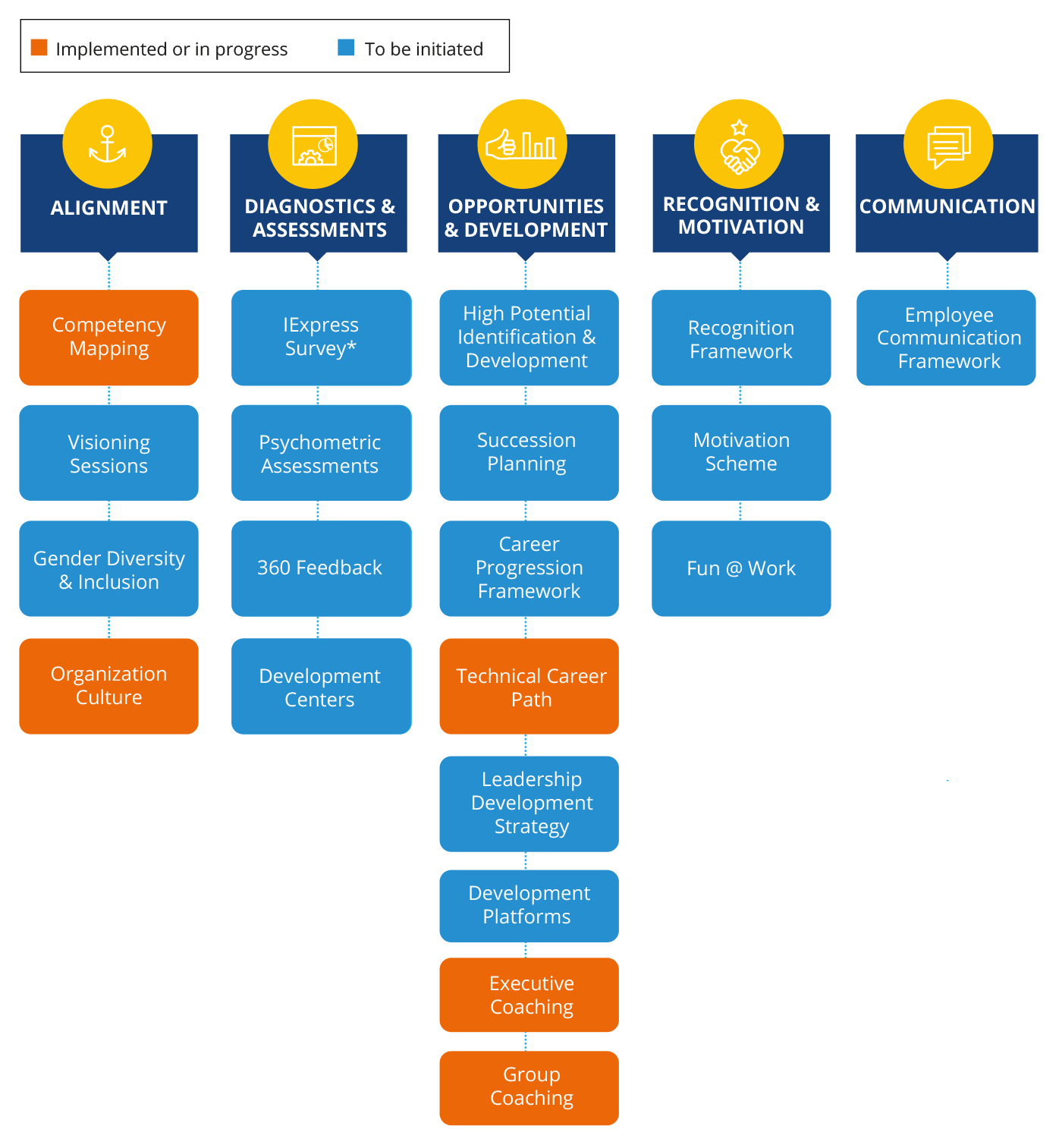 Roles & Responsibilities
Alignment
Diagnostics & Assessment
Opportunities & Development
Recognition & Motivation
Communication
Alignment
Alignment is an organizational development intervention which helps to get everyone in the business moving in the same direction to achieve the stated goal of the organization. The alignment framework in L&T Technology Services serves as the link between individual performance and business growth by helping people to achieve their career goals by aligning to the business goals.
Competency Mapping – Competency mapping aims to identify key competencies required to perform any job role in the organization. Competency mapping defines each role in the organization. It also identifies an individual's strengths and scopes of improvement in order to help them better understand themselves and to show them where career development efforts need to be directed.
Visioning Sessions – Visioning sessions are structured workshops for business groups which guide them to arrive at an effective framework to develop a comprehensive and shared set of objectives, goals, strategies, and values.
Diversity and Inclusion – The vision is to foster a culture that maximizes the power of gender diversity and inclusion to drive innovation and business growth.
Diagnostics & Assessments 
Organizational Diagnosis is an effective way to assess the efficiency and effectiveness of the current organizational performance by conducting an org-wide analysis of the people. Diagnostics at L&T Technology Services is conducted by implementing various assessment tools (mentioned below), assess performance abilities of individuals and teams and identify development potential.
I-Express Survey – i-Express Survey is a tool to assess employee engagement level at L&T Technology Services. The objective is to get feedback from employees on various organizational parameters which impacts their engagement with the organization and set a base line for future actionable.
Psychometric assessments – Psychometric assessments are tools that help to assess the abilities, personality, motivations, values and interests of individuals to perform in a defined role. This also helps individuals to identify gaps in skills and develop improvement plans.
360 Feedback – 360 degree feedback provides an effective framework for developing self-awareness, confidence and motivation to improve the personal effectiveness of people managers. There are pre-identified tools to measure the 360 degree feedback. Report will be generated and debriefed for development plans.   
Development Centers – Development centers aim to identify, develop, and groom talent to take on higher responsibilities. The development center uses simulated activities to enable participants to obtain a balanced assessment of their performance on a pre-determined set of competencies, consider options for building on their strengths and working on their developmental needs and create a basis to draw up professional and personal action plans.
Opportunities & Development
People development refers to systematic use of knowledge and skills to meet specific objectives or requirements. In L&T TS the people development initiatives, mentioned below, enhances the quality of existence and leadership within an individual and the organization. It is focused on developing the leadership abilities and attitudes of individuals.
High Potential Identification & Development
Succession Planning
Career Progression Framework
Leadership Development Strategy
Coaching Intervention
LEAD
HORIZON
Recognition & Motivation
Employee recognition & motivation is a fundamental approach for any organization to nurture a positive, productive and innovative organizational culture.  The recognition framework in L&T Technology Services outlines various programs to reward and recognize associates for their achievements and superlative performance that assists the organization in pursuing its strategic goals and objectives.
S. No

Program

Description

Periodicity

1

Employee motivation Scheme

The scheme empowers managers to build morale and motivation of associates by recognizing excellent contribution of members on the SPOT by some team motivational activities.

Event Based

2

I-Appreciate

The tool encourages employees to recognize and appreciate the work / efforts of colleagues within or outside their BU / department / location.

Event Based

3

Long Service Awards

The award recognizes the commitment and loyalty of associates who complete 15, 20, 25, 30, 35 and 40 years of service in the organization.

Event Based

4

Employee Awards

The award recognizes individual and teams achievements / efforts towards success of the organization. The awards will be conferred in ESTRELLAS – the awards ceremony.

Annual

5

Business Acquisition Awards

The award recognizes associates for exhibiting leadership in acquiring large size business orders.

Event Based

6

Sales Awards

The award recognizes associates in sales function for their significant contributions to the business on various sales parameters.

Annual

7

Team Academy Awards

The award recognizes project teams for displaying delivery excellence, customer service, profitability, competencies, best practices, etc.

Annual

8

Technology Awards

The award recognizes associates for demonstrating significant contributions towards building innovation culture through

Tech Panorama event
Representation in technical conferences / seminars / events
Creation of Intellectual Property registrations

Annual / Event Based
Communication
A robust employee communication framework helps the organization to ensure that employees are made well aware about all organizational development changes and employee benefit initiatives. The master communication plan in L&T TS outlines the means by which communications and leadership team will disseminate information about goals, objectives or strategies designed to achieve business goals.