Gandhinagar (Gujarat), May 14, 2022: L&T Technology Services Limited (BSE: 540115, NSE: LTTS), a leading global pure-play engineering services company, announced that it has signed a collaboration agreement with Pandit Deendayal Energy University (PDEU). The industry-academia partnership aims to develop disruptive technologies and prioritize the creation of innovations that strengthen clean and sustainable energy.
According to the agreement, LTTS will also help to setup a Center of Excellence at the premises of the PDEU, where the projects undertaken will focus on R&D in hydrogen generation, carbon capture, energy storage, & pumped storage.
LTTS, at the core of its offerings is focused towards leveraging technology trends that support sustainable business growth. LTTS has identified six strategic areas to drive business agility and Sustainability is one of these six key strategic areas, with EACV, 5G, Digital Manufacturing, AI & Digital Products and MedTech being the other five. Following this collaboration with PDEU, LTTS aims to boost energy efficient initiatives and innovations.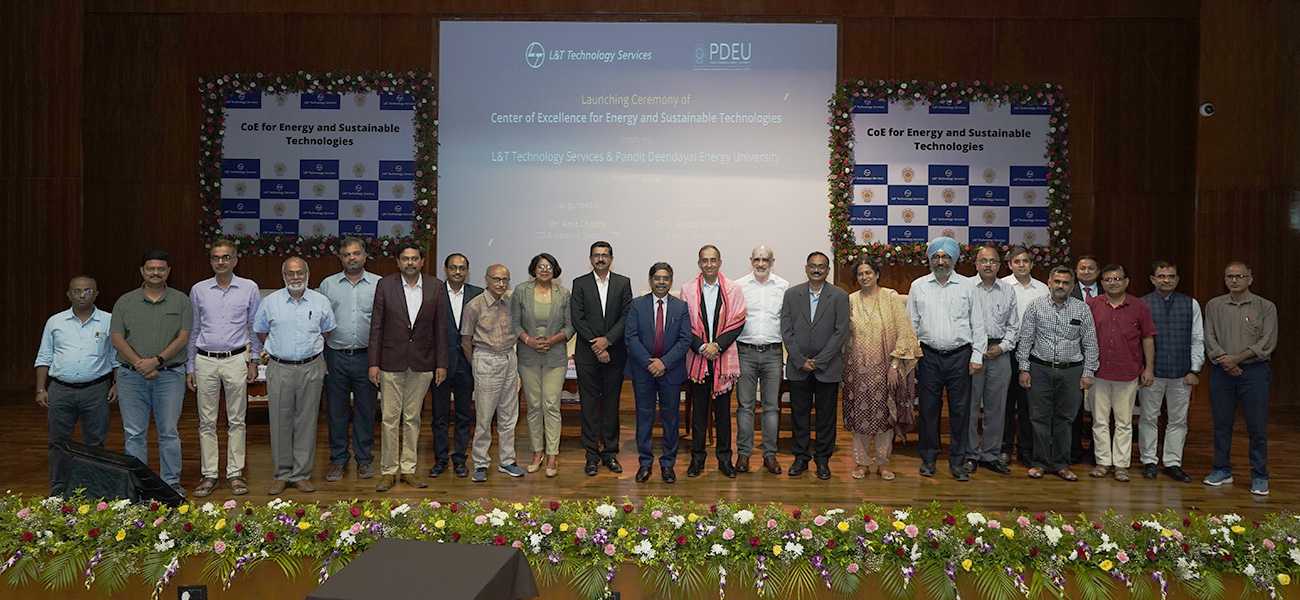 Amit Chadha, CEO and Managing Director, L&T Technology Services said, "Academic institutions and organizations alike are doubling down on advancing clean energy technology innovation in India to deliver critical energy solutions. Our commitment at LTTS, is to nurture a sustained R&D culture and empower innovators for the development of smart engineering products and solutions, paving the way to a cleaner, greener and prosperous nation. In this respect, we welcome this collaboration with a prestigious educational institution such as PDEU, one of the top universities in this segment."
Prof S S Manoharan, Director General, Pandit Deendayal Energy University said,"Short-term sustainable interventions addressing the current energy needs must be accompanied by strong focus on long-term goals of the energy transition. In this regard, industry-academia collaborations play a vital role by providing the stepping-stone towards a sustainable tomorrow through technology and innovation. This collaboration with an ER&D services leader like LTTS is a big step in accelerating the adoption of a sustainable way of life and engineering a greener and energy efficient world."
---
About L&T Technology Services Ltd
L&T Technology Services Limited (LTTS) is a listed subsidiary of Larsen & Toubro Limited focused on Engineering and R&D (ER&D) services. We offer consultancy, design, development and testing services across the product and process development life cycle. Our customer base includes 69 Fortune 500 companies and 57 of the world's top ER&D companies, across industrial products, medical devices, transportation, telecom & hi-tech, and the process industries. Headquartered in India, we have over 20,800 employees spread across 17 global design centers, 28 global sales offices and 89 innovation labs as of March 31, 2022. For more information, please visit https://www.ltts.com/
Media Contact
Aniruddha Basu
L&T Technology Services Limited