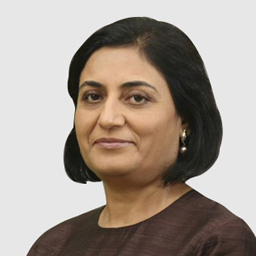 Ms. Apurva Purohit is the President of the Jagran Group, one of India's largest multi-media conglomerates. With over three decades of experience in the media and entertainment industry, she leads digital, print, radio and outdoor in the group.
She was responsible for creating Lodestar, one of the largest media agencies in the country today and envisioning Times of India's entry strategy into television. She has also worked on famed turnarounds like Zee TV and is also credited with the listing of Radio City on the stock exchanges in 2017, one of the very few successful IPOs at that time.
Under Apurva's leadership, Music Broadcast Ltd, the company which runs the Radio City FM network, has also consistently been ranked as amongst the top 10 Best places to Work at in India and in Asia, in the Great Places to Work survey.
In her tenure at Jagran, Ms.Apurva has pivoted the group from a deep-rooted reliance on its traditional print businesses to a focus on new age emerging businesses. The strategies adopted under her tutelage and her emphasis on excellence in implementation have increased both the scale and the profitability of these businesses manifold.
Over the last 20 years Apurva has formed significant partnerships with private equity firms as well as promoters to build and scale up a diverse set of businesses - from early stage fledgling businesses, to setting up new ventures and to supervising turnarounds in mature and declining organizations. She is on the board of Mindtree Limited, Midday Infomedia Limited and BD Foundation, and an advisor to private equity fund Amicus Capital. She actively mentors' entrepreneurs across sectors on building and scaling businesses and shaping inspirational work cultures.
Ms. Apurva has won multiple business awards and has been named as one of the Most Powerful Women in Business as per Fortune India in 2018 and 2019 and India Today Group (2016, 2018 and 2019)
Apurva holds a Bachelor's Degree in Science (Physics) and completed her PGDM from IIM Bangalore.
Back