Engineering 5G 
for Connected Products
LTTS' end-to-end testing and 5G capabilities are poised to revolutionize the connected products ecosystem – enabling 5G trusted network infrastructure, and state-of-the-art new product development.
As business objectives and operating models undergo rapid digital transformation, 5G-enabled enterprise connectivity has emerged as a major driver for business success across industries. While various emergent technologies, including IoT, is playing a critical role in driving this paradigm of truly connected products.
An increasing number of OEMs today need expert facilitators to help them integrate equipment, optimize 5G connectivity, and develop future-ready connected products. While the telecommunications industry was the major beneficiary of the 4G and 4G connectivity, 5G-enabled digitization and IoTization is set to expand the horizons of the connected ecosystem, transforming even how we use consumer products such as water dispensers, refrigerators, and stereo systems.
Heavy-duty plants and factory equipment stands to derive the benefits of this transformation. Here is how these enterprises have progressed to the age of hyper-connectivity:
Analog Device

Voice only technology

Messaging Device

Messaging Digital technology

Broadband Device

Basic internet technology

Video & Hi-Speed 
Internet Device

Video streaming & 
hi-speed internet
Age of Hyperconnectivity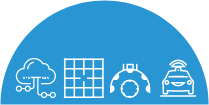 Smart & Connected 
Device
Connected world for 
all verticals
5G
has opened the pandoras box
5G enterprise connectivity is paramount for machine and end-user networking. Its most notable benefits for connected products include:
Deeper coverage, low complexity, and energy efficiency
Ultra-low latency
Higher reliability and security
High-user mobility, enabling true X2X communications
Studies show that 5G-enabled IoT devices will be most favored for massive machine-type communications; ultra-reliable, low-latency communications, and enhanced mobile broadband.
LTTS Offerings
LTTS' 5G offerings for connected products emphasize a vision of end-state and diverse use case experience, a deep understanding of complex technology stack and interoperability, end-to-end testing expertise, and a superlative user experience. LTTS is helping redefine the entire enterprise ecosystem, across existing sensors, technology and products, new product development, legacy gateways and controllers, and IoT platforms and applications.
LTTS offers end-to-end 5G capabilities across hardware deployment, software integration, testing, and manufacturing support. This includes:
Product conceptualization
Designing and development capabilities
Testing and certification
Product launch support
Product maintenance
These offerings are critical for enterprises to build cutting-edge 5G devices and become future-ready.