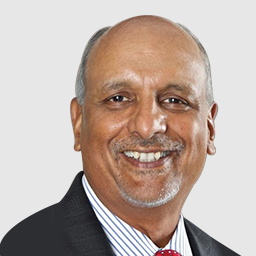 Mr. R. Chandrasekaran, has had an exemplary career spanning over 34 years, in the field of Information Technology. Chandra, as he is popularly known, retired as Executive Vice Chairman of Cognizant, India as of March 2019. He serves as an Independent Director on the Board of PNB Housing Finance Limited, NSEIT Limited and Aujas Networks Limited (subsidiary of NSEIT). He is also part of Chairman's council NASSCOM (National Association of Software and Services Companies). He holds a B.E. (Hons)degree from R.E.C. Trichy (NITT) and an MBA from IIM Bangalore.
Mr. Chandrasekaran joined Cognizant as a member of the founding team. He has been widely recognized as a significant contributor to growing the company to over 250,000 employees, $16+ billion in revenue and establishing the global delivery footprint.
He started his career post engineering with Ashok Leyland, where he spent four years. After his MBA from IIM Bangalore in 1985, he joined TCS, where he held positions of increasing responsibility and stature including stints in UK and US.
He has received numerous awards including
Distinguished Alumni Award from REC Trichy in 2008
Distinguished Alumni Award from IIM Bangalore in 2015
CXO of the year from Business Standard
"For the sake of Honour", an award given by the Rotary Club of T Nagar, Chennai
He is very passionate about Education and is
On the Advisory Board of Thiagarajar College of Engineering, Madurai

On Post Graduate Prog. committee of NIT Trichy
In his private life, Mr. Chandrasekaran is an unassuming, soft spoken man with the same drive for achievement combined with respect and compassion for others that he brings to his professional life. He is an active supporter of social causes, directly supporting education of underprivileged school children, Offering Merit Scholarship in NIT Trichy, supporting Research Faculty in IIM Bangalore thru a personal endowment, and supporting several healthcare initiatives.
Back