Healthcare industry is increasingly adopting AI based (clinical decision support) solutions for providing better care access to the patients, improve response times of diagnostics and for delivering effective care to achieve better outcomes.
Within Healthcare, Radiology practice has seen increased adoption of AI-based solutions in analyzing medical images for the detection, characterization, and monitoring of diseases
LTTS AI SOLUTION FOR RADIOLOGY
L&T Technology Services offers comprehensive set of services for development of Medical Imaging based AI solutions. With over 30 years of experience in Medical Imaging, Device development and a comprehensive partner eco-system, we bring-in unparalleled expertise to support our customers across the AI development lifecycle.
Having dedicated center of excellence in AI and Imaging with patented algorithms, LTTS brings in the process, tools and skills required to support -
x
Data Engineering
Image Cleaning, Annotation and Pre-processing for enhancing the quality of images for training of the AI/ML Models
x
Model Training and Selection
Develop models for Machine Learning, Computer Vision and Signal Processing
Algorithm development & customization for increasing specificity & sensitivity
x
Model Evaluation & Deployment
Define evaluation strategy and perform clinical & performance evaluation of the Model in collaboration with eco-system partners, Radiologist/Clinicians
Optimization of the developed algorithm to ensure that they are production ready for deployment in the target environment
x
System Integration and Reporting
Integration of the AI solution with Hospital healthcare IT systems to enable seamless Radiologist /clinical workflow experience
KEY DIFFERENTIATORS
30+ Years of Medical Imaging Experience
Partner Ecosystem for data & domain knowledge
CoE in AI & Imaging: Ready access to Tools, Processes & Specialized team in Medical Imaging & AI
20+ patents in Imaging
Accelerator: LTTS AI Framework – "AiKno" for Model Training, Selection & Refinement
Resources
Brochure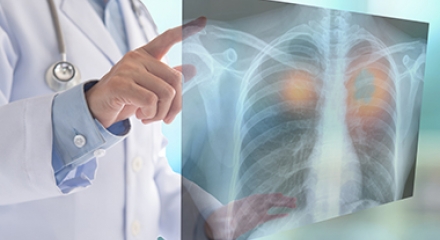 LTTS AI Solution for Radiography - We have a dedicated center of excellence in AI and Imaging with 20+ patents in Imaging. Download our flyer to know more