Banking on Core Values to Enable Business Virtualization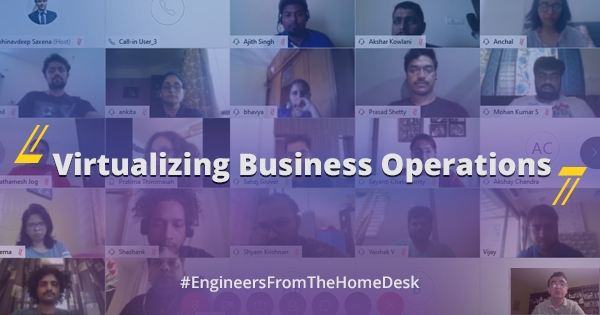 Published on: 14 Apr, 2020
646 Views
It is essential for enterprises to bank upon the core business values in these unprecedented times – for both, managing employee morale and conducting business operations. In a free-wheeling chat with Amit Chadha - Deputy CEO & Whole-Time Director, LTTS, we explore four business basics - trust and transparency, accountability, empathy, and creativity and their significance in ensuring business continuity in the times of COVID19.
Amit, if there's one thing that's very critical in these times, it is to build trust, whether it's for the employees, customers, partners or suppliers. So, what are some of the things an organization can do to build this culture of trust and transparency?
Rightly said, building trust is of extreme importance. As you know, we are in a very different, uncharted time here. What we've seen working for us is that the key to building trust is communication: multi-level, multiple types, one-on-one, one-to-many, many-to-many. One must start by explaining the rationale clearly, the impact, the pros, the cons, ideas from various quarters, and then finally take a decision and implement it. There will be times when decisions are made and take actions executed that may not work for everybody, but the rationale should be clear on why we're doing it and the impact it will have on the stakeholders.
I feel that this is helping us in this current crisis, as well as in past in building trust and transparency. For example, recently in Japan and Europe, some of our employees approached us and said that though the client was working, they were uncomfortable commuting to work. Now, what we did here was we spoke to the local authorities, and we spoke to the client, explained them the concerns of the employees and convinced them about the authenticity of the concern. We devised a plan together with the employees where some of them were provided an option to go using personal transport to work. The remaining few were provided an alternative option to work remotely from home. Again, trust and transparency can only be there if you're able to communicate the rationale sincerely and work collectively with the teams.
Given that an engineering company does not traditionally have a very extensive work from home model, how big a paradigm shift has this been to virtualize operations and workforce? What are some of the ways in which you have adapted the systems and processes to still have the right amount of oversight and accountability?
You've tickled the engineer inside me. I'm an electrical & electronics engineer. So, let's start with the basics… Our business model is built on the philosophy of remote working; stuff that needs interaction is done locally, while other activities are done remotely. There are business continuity plans that allow for partial working from home; somebody's sick, not well, or unable to come. At the same time, there are activities that can't be virtualized and need on-site presence either on a shop floor or at a lab. This crisis is taking things to a whole different paradigm. Like somebody once said - "You go to war with what you have, not what you want." In a very limited time, we've had to virtualize each and every activity. We set things in motion by classifying and assessing the client segments, we analyzed those, fragmented the services we provide to each client segment and asked the hard question again - Can this be done remotely? And where the answer was positive, we moved it to a work from home model. It has required us to think hard, think smart, go down to details and construct a way forward while keeping data security and client confidentiality as key parameters in decision making. Going forward, I do believe this will become a new norm and will and will evolve as an efficient and effective delivery methodology in the post-COVID19 world.
If there's one thing that the situation has taught us, it is to be more empathetic to our colleagues, team members, and customers. What are some of the ways in which a company can be more empathetic, and give people the assurance that you've got their backs, and that we're in this together?
In a situation like we are in today, the most important factors are the health and safety of the family,  self, teams, and finally, the business continuity. It is therefore important that we make informed decisions, communicate effectively and take definitive actions. This is imperative and must always beat the back of our minds. An additional vector to be considered is the fact that the workplace or the work-space and the home space are merging together, and therefore compassion, empathy, and respect for both, the home space and work-space together is very important while we conduct our business.
Two examples and an advice come to my mind We have a limited number of people in China. We moved them out of China even before there was a crisis or alarm raised… the moment we came to know about the virus, we recalled them... Second, my Chief of Operations has a young 21-month-old at home who shares the workspace-home space with him. So, my first question nowadays when I speak to her is how she is doing, and the baby doing before I get down to work, it sounds as a simple  gesture, but has a significant impact in these changing times.
Finally, I've always been giving free advice and encouragement to people who find excuses about not being able to join a gym, but in the current situation with the lockdown in place, I would urge everyone to do some form of exercise to stay healthy. Because, we all are cooped up in a small ecosystem now and exercising is an absolute necessity to maintain and positive outlook and a healthy lifestyle.
We have also noticed that work from home has made people really creative, in the ways that they engage with teams, the way they boost employee morale, or the way they get work done for customers. Could you talk about a few ways in which the LTTS workforce has risen to the occasion?
There are so many unsung heroes with this whole thing that we went from being a completely on-site office-centric model to becoming more than 90% of the workforce working from home. It couldn't have happened without the hard efforts that were put in by the LTTS family: planning, sudden planning, crisis planning work done, and actions taken by our IT teams, by our administration, teams, logistics teams, and employees themselves. One important thing to consider here is that fact that we are an Engineering company and in most of the geographies where we have delivery centers such as the US, Europe and India, we have labs and equipment that are part and parcel of the work delivery and we had to mobilize/connect that too in the shortest of the time frame.
Employees have risen beyond their call of duty, to safely and securely in record time, move this equipment through the night, to their homes, to their colleagues' homes, set those up, in cases take UPS to their house so that they are able to conduct business remotely, efficiently and securely.
Another example, remote operations of a life sciences lab are being done round the clock 24*7, and our employees have together decided as to who's going to pick a night shift as opposed to a day shift because that part of the operation is required for our client in the healthcare sector, and they're doing that without even being asked to do so.
There are a number of other stories that touch the heart, which are classic examples that define the phrase 'beyond the call of duty'. Video conferencing has become the new norm, be it Zoom, Microsoft Teams, Skype, etc. these apps are allowing us to see emotions and are a window into the personal space of people and it is a unique experience of seeing the reactions of the meeting participants rather than getting the updates in an impersonal call.
I do believe after we come out of this crisis, video calling will become the norm as opposed to voice calling as we move forward. We all know that we're staring at a health crisis here, and nobody's safe. Having said that, a lot of our employees have become self-declared cheerleaders, motivating their colleagues with positive thinking and empathy, rather than discussing the negatives of the situation. I do believe that like all other things, this will also pass. What's important for us is to be safe and be strong.