Cognitive Convergence and the Age of Plant 4.0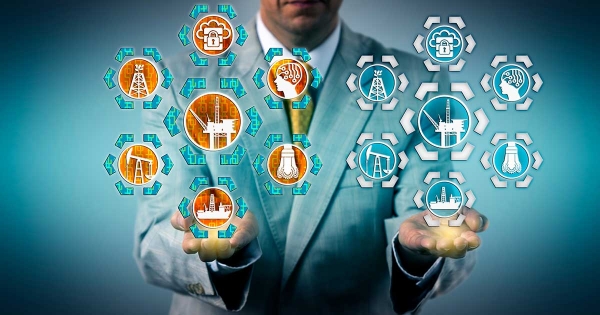 Published on: 29 Nov, 2018
331 Views
Emerging cognitive technologies are for the manufacturing plants that the human brain is for the body. These technologies are expected to facilitate the same purpose that the brain does – creativity, ability to learn and grow, interaction, maintain health and well-being, coordination, and planning. Essentially, cognitive technologies comprise machine learning, AI, big data, machine-to-machine (M2M) communication, and automation, among others, which have been present in the industrial ecosystem for quite some time but in a segregated manner. The real challenge is to not only create a symbiotic environment for these technologies but also to revolutionize the operations by accessing and enabling the usage of vast amounts of data quickly.
It is universally acknowledged that cognitive technologies will transform every aspect of manufacturing, from research and development, supply chain, and factory operations to marketing, sales, and service. Research firm MarketsandMarkets expects the global cognitive services ecosystem to grow from USD 2.59 billion in 2018 to USD 15.28 billion by 2023. Increasing digital connectivity among plant workers, managers, designers, and consumers as well as between humans and machines will unlock enormous value and transform the manufacturing landscape.
The digital factory concept has especially gained popularity in discrete industries, such as automotive and aerospace. The goal is to connect the digital dots by closing the gaps between product design and production and quality, and eliminating as much waste as possible in the process. This can be accomplished by incorporating digital twins to virtually simulate how design will work before investing in the physical model.
Growing Demand Complementing Growing Popularity
In the world of manufacturing, the interest levels surrounding AI, machine learning, natural language processing (NLP), data analytics, and robotics have gone through the roof primarily due to the advent of Industry 4.0, which is driving the proliferation of a 'super connected plant'—from product and process to logistics and customers. This industrial transition is developing faster than anyone could have imagined due to cognitive technologies being a logical and more efficient extension of existing mechanisms of establishing connectivity on the floor.
For instance, the Industrial Internet of Things (IIoT) creates a connected enterprise by merging the information and operational department of the industry. It improves visibility, boosts operational efficiency, increases productivity, and reduces process complexity. According to a report by Allied Market Research, the IIoT market size is projected to reach $197 billion by 2023 and manufacturing will be the leading application area of IIoT till 2023.
Application Areas of Cognitive Technologies in Plants
Quality Control – Sensors collect data related to product, such as raw materials, temperature, and working conditions, as well as usage and wastage. Machine learning can facilitate supplier monitoring and help manufacturers keep an eye on the constituents. All these inputs can be analyzed later to recognize and rectify issues related to quality. This calls for various quality standards that enable plant managers to regulate how input and output variables function. For instance, Lean Six Sigma improves processes so that there are fewer defects and higher quality products.
Predictive Maintenance – According to Deloitte, poor maintenance can reduce a plant's overall productivity by as much as 20 percent. Predictive maintenance can be a solution to issues such as lost production time due to breakdowns. It follows 'condition-based monitoring' and is divided into three stages – digital assessment, data collection and analysis, and rollout of the full plan. The data gathered from connected, smart machines and equipment can estimate the occurrence of failures, thus minimizing unnecessary downtime and maximizing machine efficiency.
Logistics and Supply Chain – According to IDC and SAP, IoT will lead to a 15 percent increase in productivity in delivery and supply chain performance. IIoT provides real-time estimates of material availability and their arrival time. It also allows real-time monitoring of all occurrences across the supply chain, such as tracking inventory and global tracing and eliminating waste and unrequired activities. The IoT applications immediately notify the users of any deviation from the standard procedures and facilitate cross visibility. This leads to cost reduction and supply chain optimization.
Manufacturing Process – Increasing adoption of supplementary technologies such as AR, Digitization, 3D printing, Cloud Computing, Cognitive Analytics, and the necessity to move toward cost-effective solutions to make decisions are the major driving forces behind proliferation of digital in manufacturing. These emerging technologies reduce time to market for products and services, reduce operational cost, improve accuracy, and enhance operational performance. Moreover, the investment into these technologies yields high returns in the long run.
Cost – As the efficiency levels of cognitive technologies increase, the cost of operations for manufacturers will reduce. Tracking information about products and processes will become much easier than at present, leading to enhancement of operational efficiency of the plant, and that will eventually reduce cost and boost margins. No wonder that AI is expected grow at a CAGR of 51.6 percent during the forecast period 2017-2023, as estimated by ResearchAndMarkets, a market intelligence firm.
Process Integration – Online and offline processes are traditionally kept separate in manufacturing plants. However, cognitive technologies are likely to bring about their integration as more and more plants and their products become IoT-enabled. This will lead to development of a renewed and unified organization that would be free from process silos. Process integration will facilitate easier performance management, generate more relevant key performance indicators (KPIs), and streamline business strategies across geographical sites and departments.
Consumer Connectivity – Digital technologies have shifted the balance in favor of the consumer; according to Salesforce, 82 percent of B2B customers want the same experience as personal buying and 70 percent of these business buyers consider connected processes very important to win their business. Leveraging IIoT, it will become easier to connect manufacturers with their customers and that too in real time facilitating customized designing and What You See Is What You Get (WYSIWYG).
Employee Safety and Security – ILO has estimated over one million work-related fatalities every year and that around 60 percent of these lives would be saved if available safety practices and appropriate information were used. IIoT can improve the working conditions of employees in the plant while taking care of their KPIs—health, safety, and security. It becomes easier to measure various parameters, such as illness, accidents, absence cause, etc., which allow for effective measures to be taken. Using a cognitive platform for wearable safety technology helps employees stay safer in potentially dangerous environments – such as toxic gases, extreme temperature, open flames, or defective machinery.
Workplace Connectivity through Data – Advanced wearable technology such as personal protection equipment include devices like a 'smart helmet.' These IIoT innovations increase connectivity between people, data, and machines. The onsite engineers can wear the smart helmet and other accessories such as smart gloves, jackets, and shoes, all of which act as smart sensors and transmitting devices, enabling the worker and the people at the central offices to stay connected. Naturally, more than 500 global enterprises plan to deploy these technologies by 2022, as reported by Deloitte.
Conclusion
Any technological evolution will cause disruption, cost, and strategic realignment, but it's always done with the promise of improved operational performance. Cognitive technologies may just be the current step in that evolution, but it is a significant one. We can already see glimpses of what tomorrow's factory will look like and AI, Machine Learning, and IIoT, among others, will clearly be its eyes and ears.