Reinvention – A Constant Variable for Ensuring Sustainable Success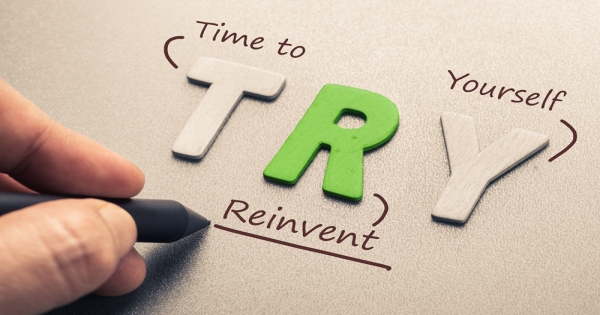 Published on: 21 Jun, 2019
0 Views
In September 1985, Steve Jobs quit Apple, the company he had helped co-found and establish as a niche technology player. His differences with the Board had become epic.
A year later, as he was running out of money, the legendary tech pioneer resolved to walk the reinvention road. His revitalized approach helped save his new computer firm, and was a major step towards ushering in a new era of ensuring user-centric experiences in the computer manufacturing business.
Drawing inspiration from the twin virtues of aesthetics and simplicity, Jobs had decided to launch a new array of products, and had committed himself to a reinvention trajectory that would eventually bring him back as the undisputed leader of Apple. He had also matured from being what others found brash and pushy, to a person who was more inclusive and willing to give a patient hearing to his colleagues.
These changes were to redefine history, as we know it.
Reinventing to Stay Relevant
The journey of reinvention, however, is not unique to Steve Jobs. All of us experience it from time to time. In fact, the entire human lifecycle is all about transformations – induced by age, education, occupation, and opportunities. 
As children, we start experiencing change for the first time, and eventually, with the passage of time, undergo several such reinventions to evolve into mature professionals. In this journey, we constantly reinvent ourselves to stay relevant and adapt to this ever-changing world, whether consciously or unconsciously, willingly or unwillingly.
As I contemplate what life really is, I see it as an unending cycle of these reinventions – creation, destruction, and creation, once again. It is a constant ebb and flow of beliefs, ideas, and behaviors – which often influence our lives in myriad ways.
We spoke of Steve Jobs earlier. But when it comes to reinvention, how can we overlook the iconic 'Colonel' Sanders, the founder of KFC. Sanders flitted in between multiple jobs and occupations till the ripe age of 62 – when he finally reinvented himself as the founder of the fast-food giant. His success, underscored by the iconic status of his creation, a name that all of us are familiar with today, serves as a constant inspiration.
Again, let us not forget Winston Churchill, the wartime British Prime Minister, who, at 70, reinvented himself as the unanimous leader of his party and country to take a stand against tyranny and oppression. Churchill's inspirational leadership played no insignificant role in shaping the world as we know it today.
But then, is all reinvention a function of age and maturity?
Not necessarily.  For every Churchill driving individual reinvention at 70, there is a Steve Jobs doing the same in their 30's.
Reinvention in the Modern Workplace: Shaping the Professionals of Tomorrow
The modern workplace demands a continuity of this reinvention principle, and sees it as a constant variable for ensuring sustainable success. We have seen a shift from mechanical typewriters, to their electronic counterparts, to desktops for select functionaries, to a world where connected computers form the backbone of any modern organization.
The changes, however, have not just been in the provision and adoption of physical infrastructure. We are now adept and at home handling cross-border interactions, often with teams spread across multiple time zones. Moreover, the advent of digital and the growth of connectivity has not only strengthened this trend, but also added a significant cultural dimension to the dialogue and opened up a completely new set of opportunities.
A renewed focus on upskilling and reskilling also deserve mention. With the technological landscape undergoing a constant evolution almost on a daily basis, the ability of the individual to understand and adopt the new solutions would be a key differentiator in the modern workplace.
Therefore, we are not only taking a close relook at the ideals of adoption and cultural harmony, we are facing a scenario where reinvention of the individual is not a distant option, but a rather pressing necessity. Like the toddler who matures into a responsible adult through reinvention, the modern professional of today must also be willing and able to look beyond their immediate surroundings, and take a matured and consistent view of things.
Driving Home the Change
It is evident that the rapid growth and dissemination of digital technologies will only help strengthen today's connected ecosystem. However, we should remember that even the smartest of machines are still incapable of emulating the human mind in its entirety. Our focus then should be on empowering the individual as they undergo the reinvention journey, and in the process, ensure a robust future of the organization. However, one needs to realize that reinvention is not a natural process, it starts with self-realization that something must change. It requires a constant nudge towards moving away from "intuitive" responses to "judged" responses and then reskilling and retraining. Some of this happens outwardly but a significant part of this requires mind and willpower. My personal view is that self-realization and self-actualization are actually significant triggers to reinvention.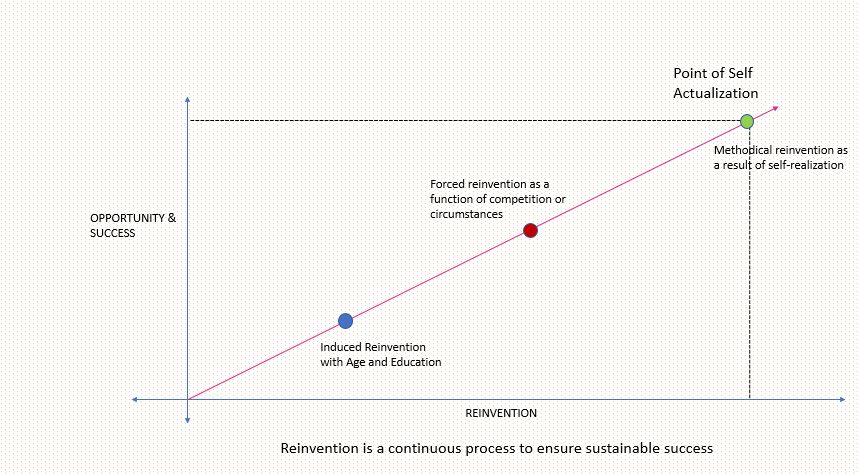 In a subsequent blog post, we look would look to explore how this reinvention journey helps shape and secure the future of businesses.
Related Blogs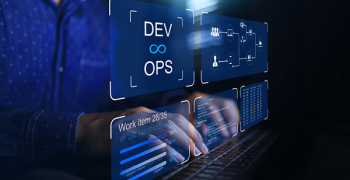 10 Jan, 2023