CONTACT US
ISG: Digital Engineering Services for Connected & Intelligent Operations – Process Industries in the US
The growth of the Digital Engineering Services is driven by the emergence of key technology trends, like, the proliferation of connected products, predictive maintenance, AI and Machine Learning (ML). The global pandemic has further accelerated digital engineering uptake across companies and consumers, a market scenario that is reflected in decision-making and investments.
Global research firm ISG has recognized LTTS as a leader in the Digital Engineering Services for connected & intelligent operations serving the US Process Industry. We drive operational value with our intellectual property and proprietary components, expertise in technology hardware architectures. Our team also has extensive experience in engineering protocols such as EnP, UBIQWeiss, DeviceNet, LoRa, NB-IoT, EtherCAT, and BACnet.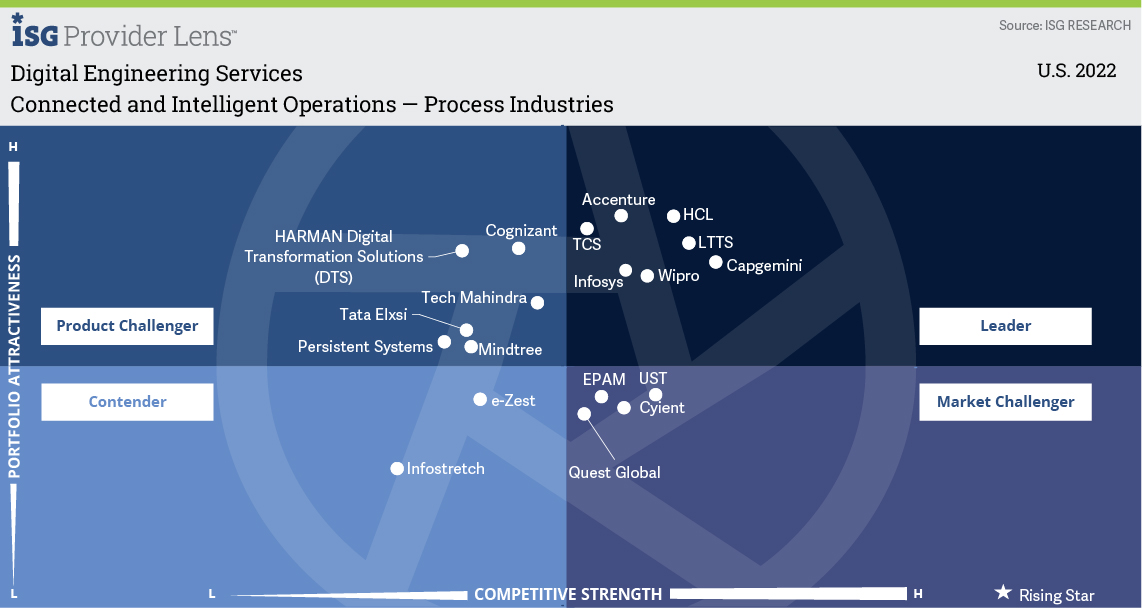 In a recent study by analyst firm ISG, LTTS has been recognized as a leader in the Digital Engineering Services in the US under Connected & Intelligent Operations –Process Industries. According to ISG, "LTTS' connected intelligent view of operations helps process industries leverage digital solutions." L&T Technology Services was recognized as a Leader among 27 providers by ISG in their Digital Engineering Services report.
To learn more, download the report.