Reimagine the Way You Visually Communicate, with LTTS FlyBoard®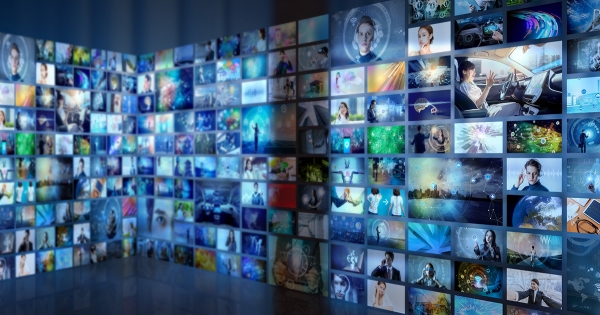 Published on: 07 Dec, 2021
421 Views
In our last blog, we spoke about how in order to distinguish themselves across industry verticals, modern marketers must adopt technology-driven, smart, and impactful display marketing strategies.
Digital signages are particularly useful in this direction. They can help can solve three key challenges that every business organization struggles with: the shrinking attention span of discerning consumers, employees' disengagement, and intense competition from the global market. From interactive kiosks and beacon-integrated stations to wraparound video walls, digital signage is ubiquitous today. This interactive tool should undeniably be the cornerstone of every engaging marketing strategy, embracing innovation.
An advanced digital signage solution: The gateway to effective customer engagement
The multi-faceted benefits of digital signage and some of the statistics and use-cases about how digital signage increases impact, often make business leaders eager to take advantage of the tool. Keeping statistics aside, when your competitor right down the street installs a digital signage system, you might be worried that they now have a competitive advantage over you. The temptation is to rush and get a digital signage system installed as quickly as possible. Rushing leads to more mistakes. And mistakes make for higher costs and negative results. It's essential to keep in mind that this ubiquitous marketing tool is not without its drawbacks, especially if you're a first-time adopter.
These days, customers expect your digital signage to be more than just digital versions of static signage. But barriers can come up that make it difficult to get the most out of your digital signage as a powerful communication tool. While every potential challenge depends on your business, industry, goals, and many other factors, there surely are some common bottlenecks. From poor integration, security gaps, confusing content management software, and design limitations, to lack of analytics, proof-of-play, and effective digital signage networks, various challenges can leave you struggling when implementing this visually-arresting solution. Digital signage successes like that of a leading retail gas station network or a 90% reduction in logistics cost of a leading real estate group can only be achieved if you can leverage all the data these systems collect to get the expected business value and deliver a top-notch consumer experience. To enable this, your organization would need an integrated digital signage solution.
At LTTS, we excel at creating memorable, modern, and personalized experiences for your users. With our purpose-built solution – FlyBoard®, enterprises can control communications on any screen from anywhere. Backed by our strong digital signage partner ecosystem, FlyBoard® streamlines sharing of high-impact content experiences that empower and engage employees, strengthen connections with stakeholders, reduce operational costs by up to 50%, and grow customer loyalty and sales for enterprises.
LTTS FlyBoard® solution highlights
Uninterrupted content display in both offline and online modes – displays a continuous loop of information even without a network connection.
Platform-agnostic – operates across OS and display types.
Streamlined marketing – supports targeted ads, offers content recommendations, interacts with your target audience programmatically or dynamically, and captures user responses for campaign analysis.
Cloud-agnostic – enables multi-cloud and on-premise deployment through headless server and containerized architecture.
Multi-network compatibility – seamlessly operates on both open IP and satellite networks.
Integrated dashboard – facilitates end-to-end management of all data across multiple networks or hardware types over a single platform.
Multicast streaming – enables streaming deployments by leveraging custom audio or video encoder.
Out of band management with Intel vPro platform.
Web or dynamic content and interactivity – supports touch and gesture-based interactivity.
Camera analytics integration – allows advanced monitoring functionalities like maintaining footfall count, recognizing facial expressions, acquiring data about consumer demographics, recording viewer engagement time, crowd management, and more through computer vision-based interactivity identification.
Automated multi-content delivery – supports multiple data types with multi-media support through an automated network-based architecture.
Multi-user access control – handles conflicting, complex, and dynamically changing demands on multiple devices.
Smart feedback – offers customer feedback in real-time and reports on customer data and preferences to better understand viewer behavior.
Get the LTTS FlyBoard® advantage today
With LTTS FlyBoard®, you can break through to your target audience with a wide range of content-rich solutions and dynamic design tools. Our deep understanding of prevalent challenges related to digital signage solutions and their adoption establishes us as the trusted partner your organization needs to strengthen its communication efforts. Bundled with FlyBoard-Lite®, a custom encoder, and multicast streaming protocol-based service, FlyBoard® has resulted in tangible business benefits in 100+ use cases and success stories across several major industries.
Are you interested in getting the LTTS FlyBoard® advantage for your organization? Click here to know how we can automate content distribution and deliver customized content to your target audience.
Read our next blog in this series to learn about a success story.