Learning and Development must Never Stop! Be it in Virtual or Digital Mode…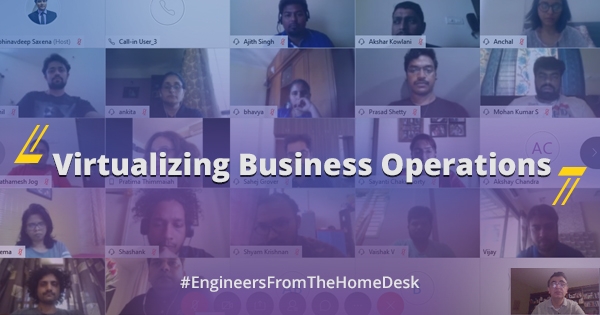 Published on: 13 Apr, 2020
1296 Views
Learning and Development is one of the often overlooked but extremely critical business process that builds the talent pool of an organization. However, this business function is much more than trainings and learnings but delves deeper into the behavioral aspect of the employees and their well-being and growth. At LTTS, we take extreme pride in employee development and have made deep rooted investment in L&D. With the current situation where the COVID19 Pandemic has put us in lockdown, conducting business and behavioral trainings has become a challenge. However, we at LTTS have a L&D wizard in the form of Sonal Vaidya - Global Head of Organizational Development & Effectiveness, who has found ways and means to run L&D function in almost Business-as-usual mode. Let's find out how she and her team achieved this and much more, read on…
Sonal, with the current situation and the lockdown in place almost globally, if there's one business activity that's been hit really hard, is workplace training. So, what are some of the things that an organization can do in order to virtualize their training programs? What are the critical things that they need to keep in mind during this transition phase?
This is a really pertinent and good question. I feel there are a few key things that an organization should do if they are going the virtual way. The first thing that needs to be done is to conduct a rapid triage of the entire portfolio of learning offerings and set priorities for what will go on digital-only format and what will go on virtual format. For example, certain offerings and trainings which have a social-emotional format attached to it, and interpersonal skill-building programs must definitely go on virtual simulations or higher-end moderated virtual trainings.
The second thing that must be done is setting up of a learning response team - a cross-functional team, that can help employees adapt to the new environment.
Thirdly, every organization must have learnability included as a key measure of success. Because, when you go the virtual learning way, you definitely want to know the ease and speed at which the learners can learn and acquire new information.
And lastly, since there is a dependency on technology, organizations must ensure that they have the desired bandwidth and the capacity to go ahead and deliver the trainings.
Sonal, remote working is new to a lot of people. A lot of them are looking for guidance in order to set a routine for themselves and to be more productive. Then, you've got a whole bunch of first-time managers, who've never really managed teams remotely, in terms of workflows, in terms of getting work done from people. So, what are some of the tips that you have for all these people to be more effective?
I think that's a question that's been asked to me a couple of times in the last two weeks. And, I pretty much tell them that there's a quick checklist that you may want to keep in mind.
The first thing that you should do is have a daily check-in, wherever it is possible. Let it be one-on-one, face-to-face via video. But, if that is not possible, then you can also use other means of communication.
Secondly, set expectations early and clearly. Now every business has its own set of expectations, whether you're working remotely or virtually. So, expectations around what the working hours should be, what the availability should look like, how you're going to communicate with each other should be set clearly so that you can work towards the same goals.
Thirdly, I feel it is really important is to create a kind of an inclusive culture. When you're working remotely, people tend to have this feeling of isolation and getting that secondary consideration. So, the more you communicate, the better.
And when I'm speaking about communication, another thing that comes to my mind when we talk about virtual communication is to brush up your online communication skills. We all really ace it when it comes to face-to-face communication and people can see us emoting. But, when the communication is virtual, it's important for us to be precise, to be succinct. And yet, we should be able to verbalize our feelings. So, that's an important skill to master. Moreover, I feel that one should focus on the outcomes and not get bogged down by activities and micromanage. The focus should be on the bigger goal. And lastly, just trust your team, be flexible, give them the freedom and just have that belief that together you will be able to achieve all your goals.
Sonal, you run a lot of critical technical and leadership training programs that have typically, fundamentally, always had a physical classroom kind of a setup. So, how big of a mindset change has it been to virtualize all of these programs?
I think this is a very important question that each and every organization should ask themselves. Setting up a virtual training setup is not about the physical infrastructure, but it's got more to do with mindsets and creating paradigm shifts in the mindsets. One of the mindset shifts is about personal ownership. Pretty much fostering a culture of accountability and personal ownership, where we're telling our employees that this journey is yours and for you to walk on this path. And, I think the best thing about doing that is when you foster accountabilities, your employees are more likely to take ownership of their own development while building confidence in the process too.
The second mindset shift which I feel is really important is, having curiosity and an explorer's mindset. There is tons of information present out there. If you really have an innate curiosity in you, then you will be able to curate your own learning. And, both these things are very necessary if we want to democratize learning, which is the objective of virtual training.
Sonal, one very important part of any program is feedback and assessment. So, what are some of the things that you're doing in order to make sure that people are getting the most out of these virtual training programs, and then more importantly, are they able to apply it into a professional setting as well?
When it comes to learning and feedback, we pretty much follow the Kirkpatrick model. And, we take feedback at each and every stage.
The first feedback we take is at a reaction stage where we go ahead and roll out surveys to find out whether the course was relevant and useful, and if it was really something that they could go back and practice in the real-life environment.
The second one which we do is to capture learning which is done in terms of pre and post-assessments.
The third one is more about an application to see whether it brought about some kind of performance improvement or change in behavior based on learning. We use a lot of different methods, like peer-to-peer feedback and 270-degree feedback.
Lastly, we even tried to see how the ROE, which is the return on expectations, is getting reflected in the business metrics. Throughout this process, feedback is very important. Especially, if you're doing anything which is virtually curated content, then feedback is also done in real-time.
Related Blogs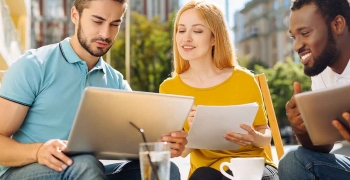 09 Feb, 2018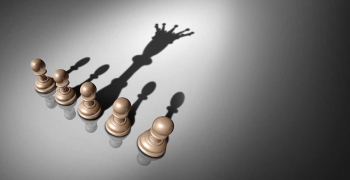 10 Oct, 2018