Wearable Ultrasound Patches: Redefining Real-time Healthcare Interventions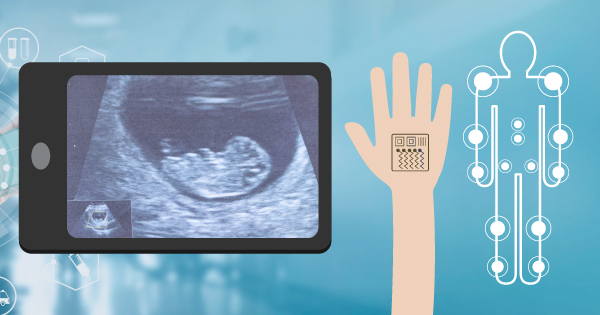 Published on: 05 Jun, 2023
201 Views
As the global healthcare industry refocuses on improved patient outcomes and enhanced affordability, wearables have emerged as a key enabler for the next revolution in medical services. The global wearable medical devices market — valued at $21.3 billion in 2021 — is expected to grow at a CAGR of 28.1% between 2022 and 2030. 
The trend, however, does not come as surprise given the potential of wearables to generate real-time, round-the-clock health data that can lead to potentially life-saving interventions. 
A recent development in this segment is wearable ultrasound patches — small, portable devices that use ultrasound technology to provide medical imaging or therapeutic applications. These patches are typically attached to the skin by using an anti-dehydrating bio-adhesive hydrogel and can be worn for extended periods of time. Lightweight, non-invasive, and exceptionally convenient for both healthcare providers and payors, wearable ultrasound patches have a seen a dramatic surge in interest in recent times. 
The Applications of Wearable Ultrasound Imaging
Because wearable ultrasound patches are designed to be worn directly on the skin, they don't require a specialized technician to operate a probe as is the case with traditional ultrasound machines. Wearable ultrasound patches have a wide range of applications, including:
Assessing cardiac health by creating 2D/3D images of the heart and its function

Monitoring fetal growth and development during pregnancy

Diagnosing musculoskeletal injuries such as tendonitis or fractures

Monitoring chronic conditions such as diabetes or kidney disease, by creating images of affected organs.

Guiding procedures such as biopsies or injections, by providing real-time images of the affected area

Monitoring post-surgery healing, particularly for wounds or incisions that are difficult to monitor with the naked eye
These patches contain small transducers that emit high-frequency soundwaves, and can efficiently monitor vital signs, detect tumors, and even deliver pain relief. They are particularly useful for patients who require frequent monitoring or therapy, reducing the need for repeated injections or other invasive procedures. For instance, these sophisticated patches are particularly useful for patients who require palliative care for cardiovascular issues, complex respiratory disorders, diabetes, AIDS, and cancer, among others. 
Unlocking Value at Scale for Wearable Ultrasound Patches
While it is beyond any reasonable doubt that wearable ultrasound sensing and imaging devices have the potential to reshape health outcomes, there are some impediments to its wide scale usage. To begin with, the technology is still in its nascency, and therefore subject to a lot of scrutiny and skepticism from regulatory bodies and healthcare providers. The accuracy of the information gathered from these patches is also still under review, but so far, the wearable ultrasound patches have delivered accurate results.
Like all emerging technologies, wearable ultrasound devices can be expensive, implying that initial access and affordability can be issues in the short term. However, as more stakeholders experience its benefits firsthand, it is inevitable that this technology will witness greater production and application, driving wider adoption.
Ultimately, the impact of these patches on health outcomes will depend on how effectively healthcare enterprises can derive meaningful insights from them to make real-time decisions. Data management will be a key issue here, as wearables rely heavily on evolving technologies such as AI/ML, IoT, and robotics and generate massive amounts of sensitive data. Managing and running analytics on this data will need leaders to prioritize cloud computing and high-speed, low-latency connectivity, among other things. They will need to integrate these technologies intelligently to unlock the true value of wearable ultrasound sensing and imaging at scale. 
Finally, the regulatory landscape is also continuously evolving, which makes it challenging for manufacturers and facilitators to narrow down the design and development process. While continuous R&D is critical for the application of the innovation, comprehensive guidelines and frameworks are the need of the hour. In a related point, healthcare professionals and patients must be first convinced about and then trained on the use of these wearables to optimize their benefits.
Technology Partnerships to Future-proof Healthcare Enterprises
A strong healthcare ecosystem is shaped by seamless collaboration between providers, payors, OEMs, orchestrators, and administrators. To facilitate this collaboration, technology specialists can step in to provide the relevant consultation services, strategies, design, and development. By serving as knowledge partners, technology and R&D experts can help healthcare firms digitize their products and services, expand and deepen their reach, and concentrate on what they do best: innovate and improve the quality and service of care. If healthcare and technology enterprises can work together to make wearable ultrasound patches more accessible and affordable, it is end users who stand to benefit the most. 
Technology partners, further, can provide valuable insights into the market for wearable ultrasound patches, including information about potential customers, competitors, and future market trends. Armed with these technical and business insights, global healthcare organizations can future-proof their businesses for years to come.