Decoding the Semicon Story Part 4: Next Frontiers of Validation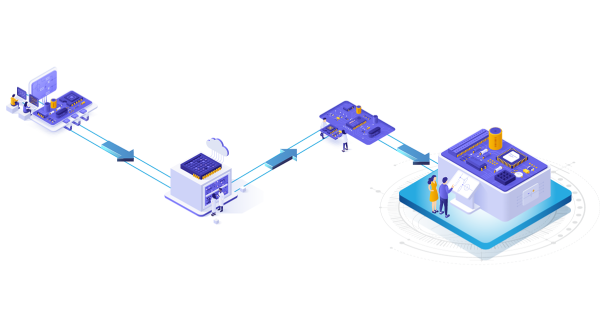 Published on: 27 Feb, 2023
459 Views
The development of semiconductor technology represents a key step forward in human civilization. Powering the foundations of a connected world, the semiconductor revolution, however, would be incomplete without validation facilities.
Right from the early 19th century, the work of Thomas Seebeck and Michael Faraday demonstrated the potential of electrical properties of certain materials. The succeeding years only saw fragmented examples of the development, with materials such as selenium, copper, and metallic sulfides demonstrating remarkable properties of conduction and rectification.
As the century drew to a close, however, we began seeing practical devices built using semiconductors, from Karl Ferdinand Braun's crystal detector in 1874 to Alexander Graham Bell using selenium to transmit sound over a light beam in 1880.
To get a greater meaning from these phenomena, we needed a unifying foundation in solid-state physics, which manifested only in the early 20th century. The ensuing developments would finally provide a solid guide to creating more capable devices using semiconductors, paving the way to the world we live in today.
Semiconductors: The Definitive World-Enabler
For almost any other singular aspect, it would be a tall order to place the existence of our modern world on its shoulders. Semiconductors are the exception. The technology is critical to the way we go about our lives today. From the phones in our hands to the cars we drive, all technological functions and processes have their origins in semiconductors. 
In many cutting-edge areas, semiconductors are prominent today. For instance, the impending proliferation of 5G devices along with the rise in global data volumes (to 163 zettabytes by 2025) will need increased memory output and higher performance from semiconductors. Only with such progress in semiconductors can we realize the full potential of this fifth-generation network standard.
AI and analytics are an integral part of the modern digital paradigm, especially with the rise of high-performance computing (HPC). And semiconductors are at the center of HPC. Report Ocean puts the HPC chipset market at a valuation of USD 13.68 billion in 2027. Similarly, in areas like connected devices and medical technology, semiconductors remain vital.
There are four distinct components that make up a semiconductor. They are:
System Design

Platform Software and Middleware
While the three previous blog posts discussed the first three semiconductor components, Part IV will focus on the final component of semiconductor creation, validation.
The Final Step in a Fruitful Odyssey
Over the previous blog posts in this series, we have understood every process that goes into the making of a semiconductor integrated circuit (IC). In order to understand what validation entails, we need the added context of these processes. This is because, over the course of the process leading up to validation, semiconductor manufacturers spend a sizeable amount of expenses creating new components as part of the overall design. With so many complex tasks happening at a minuscule level, it is imperative that the IC functions fully and properly under all possible conditions and use cases as desired by the end user(s). This is validation.
Under various environments across several manufacturing units in enterprises, the number or nomenclature of the steps involved in validation can vary. For instance, verification often happens throughout the semiconductor process where the design is tested against a given design specification to ensure functional correctness. Testing is also conducted at the manufacturing and/or production phase to check for random defects, faults, and reliability. It is sometimes either considered as a part of validation or as separate from it, occurring after the validation is done.
Validation often includes two phases— Pre-silicon and post-silicon validation. Pre-silicon validation happens before the IC is available, in a virtual environment with advanced tools for simulation, emulation, and formal verification. Post-silicon validation happens on the actual IC and its containing devices in real-world environments via commercial system boards as well as logic analyzer and assertion-based tools. This simulates real-world use and helps expose any potential flaws before product release.
The LTTS Advantage
More than any other process in the semiconductor development methodology, validation is responsible for the ultimate fate of the manufactured chips. It involves checking for countless aspects in infinitesimal circuitry within tight deadlines to meet demanding consumer requirements. Even minor delays in production or worse, manufacturing errors in the final product, can lead to hundreds of millions of dollars in losses. This makes validation invaluable to any semiconductor manufacturing operation.
Given the complexity and importance of the task, it isn't entirely surprising to note that a majority of semiconductor validation, especially post-silicon validation, is carried out manually even today. This leads to higher costs incurred by the manufacturer.
As a trusted, leading technology major, L&T Technology Services (LTTS) has decades of expertise in delivering verification and validation services to original equipment manufacturers (OEMs) worldwide. LTTS has platform experience across base stations, cloud and data centers, laptops and workstations, IoT applications, and more. The domains under its purview include firmware, networking, storage, memory, power management, telemetry, and platform security, among others.
LTTS also has significant automation expertise, which includes platform validation for all domains/features, domain/core utilities, communication channels, test automation, and even for peripherals and modules. It has experience in framework development and feature enhancement, scripting test cases, interfacing with NW simulators and live networks, and building libraries and abstraction layers. With this robust service portfolio also including test engineering and Lab As A Service, LTTS is primed to automate your enterprise's validation process, and reduce test times and operational costs along the way.
Explore how LTTS' proven experience in the semiconductor space delivered meaningful success for a leading OEM here.
With this, we conclude our four-part blog series on semiconductors, the brains of modern electronics. We hope to have kick-started your journey in understanding and exploring these technological marvels for a seemingly infinite number of use cases. To know more about how LTTS' semiconductor offerings can help your organization, click here.