LEED: Your Triple Bottom Line
Published on: 09 Jul, 2018
538 Views
Think of the Earth as a box of endless possibilities. Life, sentience, progress, comfort, and many more positives have come out of it. While the human ability to innovate has driven many of these outcomes, it has also made the box slightly more toxic at every step along the way.
For one, global pollution and energy consumption levels have reached an all-time high. More than one-third of global energy consumption and nearly a quarter of the Earth's greenhouse gas (GHG) emissions emanate from the building and construction industry. In the United States alone, buildings account for 30 percent of GHG emissions, 36 percent of total energy consumption, 30 percent of raw materials use, and 65 percent of electricity consumption.
One of the combative responses to these worrying statistics has been the Leadership in Energy and Environmental Design (LEED) framework. With its stringent rating system, LEED has emerged as a means to deliver truly green buildings through four levels of certification — Certified, Silver, Gold, and Platinum — that reflect the performance of any given building in five key areas:
Sustainable sites
Water efficiency
Energy and atmosphere
Materials and resources
Indoor environment quality
'LEED'ing the Way to Sustainable Manufacturing
Along the course of developing truly green manufacturing plants and operations, manufacturers must be prepared to address each environmental challenge in their own right. Being a highly resource-intensive sector, one of the most prominent issues relates to energy consumption. Adopting green building initiatives like lean construction and xeriscaping have become especially important, as manufacturing plants consume energy and water at a much greater rate than traditional commercial buildings.
The latest smart building solutions focus on delivering net-zero energy buildings (NZEB) by leveraging renewable energy resources on-site. Intelligent energy usage measures are projected to save more than 50 TWh of energy by the year 2050.
LEED's guidelines ensure the use of sustainable manufacturing practices that extend beyond energy management. Like in the case of a cleaning product manufacturing facility in Chicago, manufacturers can adopt practices that not only reduce environmental damage but also actively benefit the workforce and drive long-term business growth. Some measures are:
Generating power through renewable sources, such as solar and wind
Recycling construction materials to reduce pressure on the Earth
Harvesting rainwater and treating wastewater to reuse in manufacturing processes
Farming using sustainable irrigation systems and without fertilizers and pesticides
Involving employees in maintaining the quality of local air and water
Fitting daylight control and occupancy sensors in buildings to reduce electricity usage
It's a win-win situation: Manufacturers can efficiently reduce construction costs and position themselves as eco-conscious, whereas the larger community gains from the enhanced quality of life.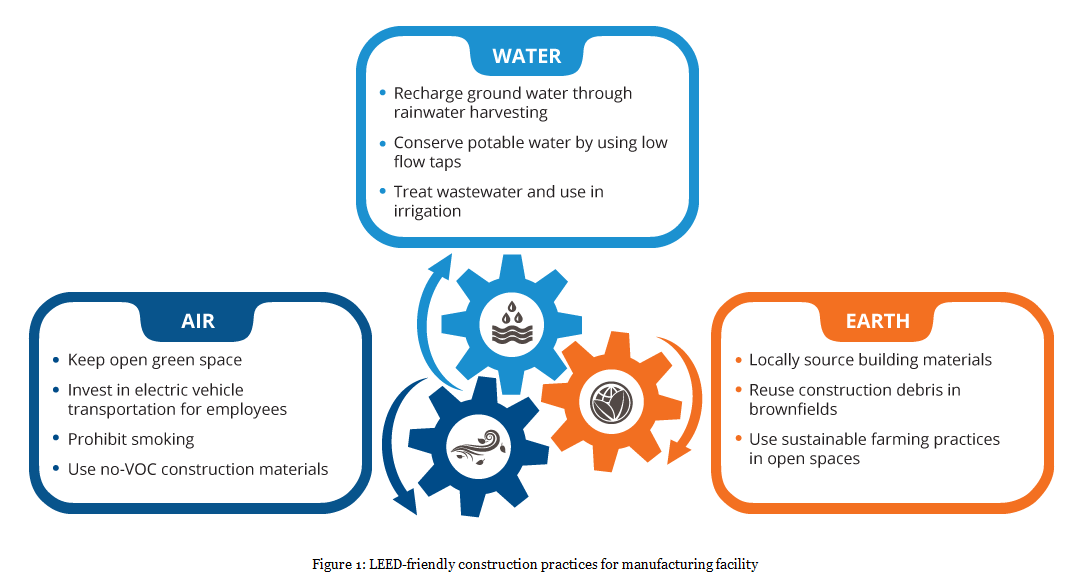 Giving Back to the Community
Being the most popular green building program in the world, governments have also adopted LEED to develop environmentally aware cities and communities. Washington D.C. is a prime example. The district had begun its journey toward a green city in 2012 with the Sustainable DC Plan, an ambitious roadmap to making Washington D.C. the healthiest and greenest city in the country by 2032. Even the community became an integral part of the plan with 58% of D.C. commuters shunning transportation modes that contributed to the pollution load. As a result, the city witnessed a 24% drop in GHG emissions. The city also signed a power purchase agreement in 2015 that boosted its solar power generation capacity by 70%. Finally, with 139 LEED-certified projects and renewable energy powering every government building, Washington D.C. was named the world's first LEED Platinum city.
As more cities embrace green buildings, LEED will become a major step toward mitigating the effects of climate change. Research suggests that LEED-certified buildings in six countries have already averted 33 metric tons of CO2, 51 kilotons of SO2, 38 kilotons of NOx, and 10 kilotons of PM2.5 from entering the atmosphere between 2000 and 2016. Unsurprisingly, LEED participation has spread across over 150 countries worldwide.
Progress and creation are two of the most natural human instincts. But it does not always have to be at the cost of our planet. LEED is one such tool that can enable us to progress in a way that Mother Earth does not pay the price for our comfort. When it comes to saving the environment, it is important to remember that no effort is too small.
To learn how L&T Technology Services is engineering the change in this direction, click here.
Related Blogs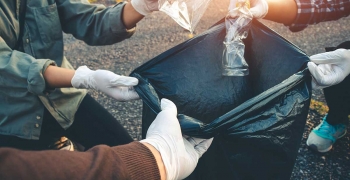 25 Jun, 2018