Transforming Packaging Capabilities: The CPG Perspective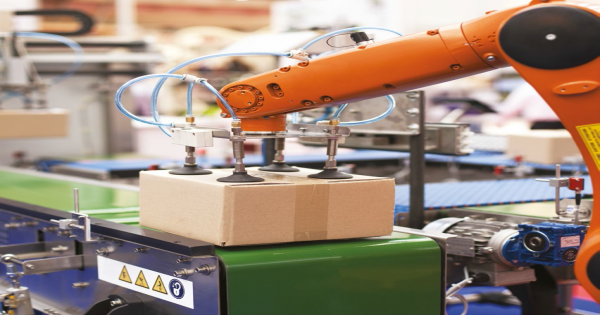 Published on: 24 May, 2019
290 Views
The secret to sale is the retail package.
For the consumer packaged goods (CPG) industry, these words speak directly to the packaging capabilities of the company. After all, releasing products with eye-catching package designs every season generate attention and garner higher sales. Manufacturers with flexible and multifunctional packaging equipment are better equipped to handle quick design changeovers and adapt to short product runs.
However, frequent design changes are not enough to succeed in the current competitive landscape.
Consumer, compliance, and cost: Gaps to plug for the packaging industry
With competition heating up between the rising numbers of consumer-packaged products, it is no wonder that buyers are spoilt for choice. Consumers have become increasingly aware of their right to demand transparency – they want to know everything, from the source of the raw material to the factory where the product was made. It has, therefore, become essential for each packet to have labels indicating these details with traceable batch numbers.
Furthermore, E-Commerce has increased demand and compressed margins - The move to online retail continues to have a significant impact on packaging needs. E-commerce packaging needs to meet new and different needs, with increased requirements for strength and less investment necessary in "on-the-shelf" printing. It is also bringing in a much greater need to optimize the overall packaging for last-mile shipments, improve the consumer's unboxing experience, and facilitate easy, efficient returns.
Adding to this, rising concerns over wastage and safety has tightened food regulations worldwide. As a result, food-processing businesses are investing in packaging systems that can ensure error-free sealing of the packages. Monitoring freshness, gas content, and temperature of the packaged product have also become vital for increasing the product's shelf life and the brand's sustainability.
Amidst these new demands, maintaining cost efficiency becomes an issue threatening revenue and profits. To overcome these issues, manufacturers are seeking solutions that can automate processes and upgrade their packaging capabilities.
Evolving with IoT and advanced technologies
Industrial IoT stands at the helm of all the packaging line solutions. Connected with low latency networks, IoT-enabled sensors have the power to implement advanced connected technologies in manufacturing plants.
Recent trends indicate that future-ready CPG companies are enhancing their packaging capabilities using human-machine interfacing 'cobots', augmented reality (AR), advanced analytics, machine learning, additive manufacturing, and machine vision.
Those who have already invested in such digital technologies are experiencing significant RoI. 78% of CPG companies in a survey were found to have witnessed a positive increase in their earnings by using automated cobots with machine vision capabilities in their packaging lines.          
for instance, a Sweden-based global food processing and packaging solutions major has powered over 5000 filling machines worldwide with cloud-enabled sensors to monitor and analyze their performance in real-time. It also uses mixed reality to improve process efficiency and significantly reduce downtime in repair and travel costs. The company recorded sales earnings of $12.2 billion in 2017 alone and revealed that it sold 188 billion packages of their products.
This Swedish company's explosive growth shows that adopting innovative packaging solutions can positively influence CPG manufacturing operations.
Tipping the scales with smart packaging systems
Active, intelligent, and smart packaging concepts are gaining momentum in the CPG industry. These concepts use digital technologies to extend product shelf life, monitor food freshness, improve safety and convenience, and allow communication about quality to consumers.
Smart packaging, in particular, has a high potential for growth in the market, well indicated through market projections of 5.16% CAGR between 2017 and 2023. The smart packaging system employs sensors, machine vision, RFID, and electrical and optical communication technologies. The idea is to automate and accelerate sorting, allow flexible feeding, and synchronously integrate processes. The system utilizes machine vision to enable vision-guided motion controls and remote inspection to ensure hygienic packaging with a minimum chance for error. This can reduce 20% of rejection rates.
In another case, engineers designed a cost-competitive modular and reconfigurable packaging system with machine vision capabilities that would verify labels, bag seals, bottle caps, and batch codes and enable defect identification at the rate of 160 bags in a minute.
Even though implementing such innovative technologies may be overwhelming with the emergence of biodegradable packaging materials, the future holds more promise than ever. The global packaging demand is poised to reach $980 billion in 2022 and grow at 2.9% between 2012 and 2022. Companies can use smart packaging systems to reduce costs, save time and augment revenue.
Investments in Sustainable packaging
CPG industry is the biggest culprit when it comes to plastic debris that is dumped on Coco islands, CSR initiatives are focusing on producing more and more bio-degradable packaging to save the planet. This situation calls for an immediate action plan and presents a huge transformation opportunity for the CPG companies to rectify their actions and catch-up to give back an eco-friendly tomorrow to the consumer and the planet.
This is not only resulting in opportunity in R&D but also in new business models and new ecosystems. One example is Loop™, a global, first-of-its-kind, waste-free shopping system.