Streamlining the Future: A Tale of Connected Factories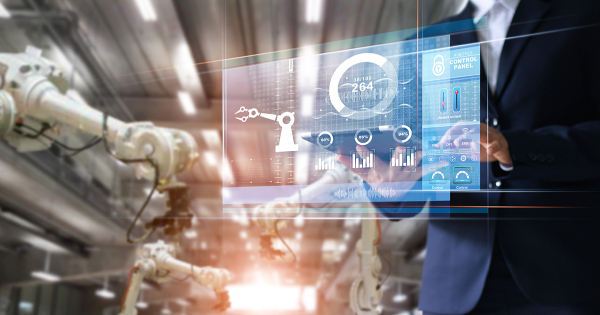 Published on: 19 Apr, 2023
59 Views
"It was the best of times, it was the worst of times,…" – or was it?
Our story today is that of a global manufacturer, producing a range of spare parts for a variety of industries. Their factories had been in operation for some time, churning out quality products, and were quite successful. However, as the tale progresses, they were facing a challenge.
While the demand from customers was increasing rapidly and the factory floors were buzzing with activity, employees were often overwhelmed with the number of machines and equipment they had to manage. The team realized quickly that they needed to upgrade their operations to keep up with the competition and stay relevant in the market place.
Does the scenario familiar? Welcome to the world of Connected Factories.
Connected Factories: The Wave of the Future
In 2021, manufacturing contributed USD 2.3 trillion to the US economy alone, underscoring its importance to the global economy. However, traditional manufacturing processes are often dependent on isolated and inefficient operation systems that are prone to faults and errors – leading to productivity losses and costly downtime.
Experience indicates that even a fractional improvement in production efficiency can generate substantial benefits to the organization's bottom line, while unplanned (and unexpected) fault can cost companies both in equipment repair and productivity losses. Research reveals that companies stand to lose up to USD 6000 from an hour of unplanned equipment downtime. The scenario is further complicated by the legacy trends where shop floor systems are often standalone and isolated because of a multiplicity of equipment/software stacks, different interface possibilities, and varied type of data formats.
Enter Connected Factories, Or As We Call Them, 'The Wave of the Future.'
Connected factories, which leverage modern technologies, including, Internet of Things (IoT), data analytics, and cloud computing, offer a solution to the challenges identified. By streamlining the production process – from the initiation to output, along with an overview on maintenance and upgrades, they hold the key to the continued success of the manufacturer at the heart of our story.
The Need for Connected: A Case in Point
Connected factories, as highly digitalized units leveraging the latest in terms of emerging technologies, ensure a range of benefits to manufacturing organizations, including:
Increased productivity:

By leveraging real-time data, connected factories today can optimize production processes, identify bottlenecks, and automate routine tasks. This leads to increased productivity and efficiency, enabling manufacturers to produce more at a lower cost.

Reduced downtime:

By monitoring equipment and detecting faults in real-time, connected factories can enable proactive redressal of potential issues before they result in unplanned downtime. This leads to reduced repair costs, lower losses to production time, greater efficiency, and enhanced bottom lines

Improved quality control:

By collecting and analyzing data in real-time, connected factory operators can identify and address quality control issues before they become major problems. This leads to improved product quality and enhanced levels of customer satisfaction.

Enhanced cost-effectiveness:

Connected factories enable manufacturers to optimize their production processes, reduce downtime, and improve quality control, resulting in significant cost savings across the manufacturing process.

Greater agility:

Connected factories enable manufacturers to respond more quickly to changing customer demands, market trends, and supply chain disruptions. This enables manufacturers to remain competitive and adapt to changing market conditions – a key requirement for success in a dynamic global marketplace.

Improved sustainability:

Connected factories help manufacturers reduce waste, optimize resource utilization, and minimize their environmental impact, helping manufacturers improve their sustainability performance and meet their environmental goals.
How to Adopt 'Connected': A Quick Primer
An effective 'Connected Factory' approach focuses on empowering manufacturing operations with overall shop floor effectiveness. By leveraging their extensive experience across automation layers and domains, the project teams offer a range of solutions, including, wider machine connectivity, standardized data acquisition layers, and cloud connectivity – all delivered through minimal OPEX platforms.
The transition begins with identifying a pilot site and deciding on the solution components and architecture. Aligning on the solution with customer stakeholders and proving it out as a PoC in one of the plants helps in easier roll out for the next set of facilities.
At the very start, the focus is on the requirement that the solution chosen has to be capable of ability addressing data collection from legacy equipment with multiple types and OEMs of control systems. We need to ensure that every machine is connected, regardless of whether it is manual, relay-based, embedded controller, PLC- or CNC- controlled. This approach is further strengthened by streamlined legacy migration activities, ensuring that automatic data collection from machines is quicker, more reliable, minimally disruptive, and easily accessible at any point in time.
Once the machines are enabled with connectivity, the next task is to standardize data acquisition, in line with Industry 4.0 requirements, such as OPC UA interfaces. This includes standardizing tag naming conventions, database standardization, and derived data tags. Historizing this data at both the plant and cloud levels enables further descriptive, prescriptive, and predictive analytics. Additionally, plant-level monitoring is undertaken for the health of the servers and allied hardware used across connectivity and data acquisition layers. Establishing redundant channels of data acquisition may be necessary for specific use cases by industry types.
Are You Future Ready?
Connected Factories today offer exciting opportunities to ensure that manufacturing is more efficient, accurate, and data driven. Its key takeaways must include Industry 4.0 alignment – cutting across manufacturing industry domains and automation layers. This is complemented by OT security paradigms, machine connectivity frameworks, global roll-out capabilities, OT application migrations to the cloud, established use cases from multiple industry domains, and an approach involving the scope for virtualize/demo in lab and prove out.
Our manufacturer, the hero of the story, is now future ready thanks to the connected factory journey in tandem with their ER&D partner.
How prepared are you?