Video Monetization Through Advertisements Part 1: An OTT/CTV Playbook Series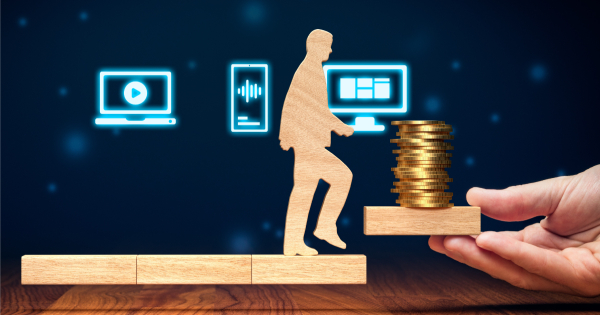 Published on: 13 Feb, 2023
471 Views
Recent estimates suggest that the global television advertisement revenues were expected to be worth over USD 170 billion in 2022. Given its reach and continued relevance, global businesses continue to leverage the potential of television in reaching their target customers.
However, the landscape is being redefined with the emergence of new technologies and content formats.  
OTT (Over the Top) and CTV (Connected TV) represent some of these new ways of advertising in addition to traditional television. Let's understand each of these channels in some more detail.
OTT is generally the delivery of video on demand through a typical streaming provider. The services essentially circumvent traditional TV channels to bring you digital streaming content.
Now OTT differs from CTV in several ways, mainly in that the CTV device is often more natively connected to the internet. Whether as a  smart television or a gaming console, a CTV terminal always connected to the network and behaves more like a legacy, internet-connected device.
Our current article deep-dives into video monetization strategies and technologies in the merging OTT/CTV landscape.
Understanding Video Ad Delivery & Tracking
Video advertising in an OTT/CTV ecosystem can often be a complicated journey with several systems and components that must work together to decide which ad to deliver to which user, and then play the message. Let us have a relatively high-level overview of these systems, components and their interactions, top understand this better. Our focus will be on the critical components for ease of understanding.

                                                                                             (Simplified) Single Request Client-side Ad Insertion Architecture)
Ad request - The video player's ad integration decides that it is time to play an ad, pauses playback of the content (if it is currently playing), and makes a request to the configured ad server. This typically happens at the beginning of the content (pre-roll), at a specific timestamp during playback (midroll), or at the end (post-roll).
The URL for this request is often called an ad tag URL, and includes parameters passed from the client to help the ad server decide which ad to deliver back to the client.
Ad Response - The primary ad server takes this request and, based on information that it knows about the currently running ad campaigns, the user watching the video, and the playback capabilities of the device, it returns a document that describes what ad or ads to play, and when.
Ad Load - The player's ad integration parses this document to determine the playback URL of the ad, if one exists, and requests the ad in order to play it back.
Ad Playback - Once the player has enough of the ad asset buffered, playback of the asset begins, much in the same way that playback of the content is handled.

A Pre-Roll video ad is a short video clip displayed before the main show starts. It is very effective since viewers are eager for the main show and their attention level is high. On the other hand, a Post-Roll video ad is a short video clip that plays after the show ends. There is a risk that viewers move to another video or another page before the ad displays because they have already finished watching the main show.
A Mid-Roll video ad is a short video clip that plays in between the beginning and the end of a show. A long show might have multiple mid-roll video ads. Pre-roll, mid-roll, and post-roll ads are considered linear video ads since they run in a sequential order together with the main video.
A Companion ad runs along with a video ad (pre-roll, mid-roll or post-roll) to provide a more integrated experience for viewers. When you choose to use companion ads, the video player can control and display other contents on the same page. For example, a mid-roll video ad can synchronize other banner ads on the same page so that they promote the same product. A video ad can alter the page background, or "skin", to provide a whole-page theme that enhances the ad effectiveness. Companion ads can be text links, image banners, or Rich-Media ads.
A Third-Party video ad is provided to you from a video ad network. On your website or App, your video player requests a video ad from the primary ad server. If a video ad from your own advertisers is available, it will be displayed. If there is no suitable ad, you can set it to display a third-party video ad from a video ad network. Impression, click, and event tracking are recorded for this video ad in both primary and secondary ad servers.
Tracking and reporting is very important to video ads. In additional to typical ad metrics like impressions and clicks, a video ad can track progress and interaction events.
First, progress events report the attention span of ad viewers, which include Start, First Quartile, Mid-point, Third Quartile, and Complete. When the ad video begins to play, the video ad server will record an event at each checkpoint. It is expected to see a higher number for Start events and gradually drop off to a lower number of Complete events because viewers lose interest.
Second, interaction events report the actions with the ad video, which could be Mute, Un-mute, Pause, Resume, Rewind, Close or Make the video full screen. These types of events can help you identify the positive and negative effects the video ad had on your viewers. If you find many viewers mute the video ad when it begins, it might be too loud or distracting. On the other hand, if many viewers expand the ad to full screen, they enjoy the full ad experience.
Monetization

Mechanism for

Video Advertising:
When monetizing content with video ads, it is essential to understand pricing definitions so that you can accurately compare monetization sources and determine the profitability of your ads. Here are the most critical video ad pricing definitions in monetizing with video ads.
CPM
Cost per thousand impressions is a metric well known by most publishers and does not need any further explanation.
CPM = Total cost/total impressions x 1000
CPCV
Cost per complete view typically refers to an action where publishers are only paid if a video is watched until 100% completion.
CPCV = Total cost/completed views
CPV
Cost per view means that the advertiser pays whenever the video ad starts playing. No guaranteed video watch time is included, unlike CPCV.
CPV = Total cost/total views
VCPM
Viewable cost per thousand is a metric which focuses on viewable impressions (where videos are viewed by the user for more than 2 seconds) in 1000 units.
VCPM = Total cost/viewable impressions x 1000
VCPV
Viewable cost per view is a combination of previously mentioned pricing models usually referring to a completed view.
VCPV = VCPM/CPV
CPE/CPI
Cost per engagement or interaction is where advertisers only get charged when the user interacts with the video.
Time-based pricing
This can refer to CPS (cost per second) or CPH (cost per hour). Here the advertisers pay only for agreed upon viewable time impressions with a minimum view time per 1000 impressions.
What

drives

Revenue

Generation

  on Video Advertising?
For an ad that is configured/setup to play on any of the delivery platforms the below key events has to occur and analytics needs to reach the Ad server. If any of it fails then monetization of that ad does not occur which is loss of revenue.
Video Player started

Ad request after player start sent to Ad server

Ad meta data loaded

Ad impression

,

i.e

.,

Ad details received by Player

Ad companions show up (Only if non-linear companion is setup

)

Ad play

Ad click

Ad pause

Ad play

Ad complete
In our next piece, we would be diving into the integration of video ads on OTT platforms in greater detail.